ACTOR AND SINGER BRIAN D'ARCY JAMES has long been a favorite of critics for his work in TV, movies and especially on Broadway. Outside of New York, though, a lot of people may not know his name. There's a good chance that's about to change. His career in the movies is poised to take a major step forward, even as his profile as a stage actor continues to grow.
Last spring, James, 47, opened on Broadway as the lead character in the musical farce Something Rotten. The show was an immediate hit, and James' performance as Nick Bottom, an Elizabethan playwright comically overshadowed by William Shakespeare, earned him his third Tony Award nomination.
Yet as much fun as he's having belting out such spirited numbers as "God, I Hate Shakespeare" on stage, it's his role in the movie Spotlight, that James describes as "a dream come true." (The all-star cast includes Michael Keaton, Rachel McAdams and Liev Schreiber.) Playing a reporter on the Boston Globe team that covered the Roman Catholic Church sex-abuse scandals in the early 2000s, James relished digging into a story that combined elements of criminal investigation and social justice with old-fashioned mystery. The story the reporters pursued "was an earthquake and a tragedy of abuse," he says. "It's very compelling to see them slowly unveiling it, peeling it away and discovering the enormity of what was going on in their communities."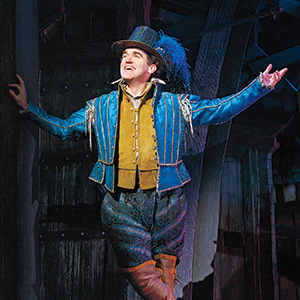 James' role as Nick Bottom in Something Rotten earned him a Tony nomination this spring.
For James, the versatility to shift from musical farce to gritty drama is something he cultivated from the moment he arrived in New York in 1990. Even as he pursued musicals, he spent years studying acting to prepare himself for dramatic roles as well. "It's easy to get labeled," he says. "You have to work hard to remind people that you have different colors on your palette."
Family Lessons
James traces that determination to succeed on his own terms to the strong family role models he had, growing up in Saginaw, Michigan. His grandfather on his mother's side was former Michigan governor Harry F. Kelly. And he still has a note written by his other grandfather, Dr. John James, to his father, quoting the Shakespeare line: "To thine own self be true."
James' father, a prominent Michigan attorney, passed the same advice on to his own children. For James, that amounted to a license to pursue his dreams, which led not to politics or law but to the stage. Performing "was something that I felt at home doing," he says. His next inspiration came from his uncle, Brian Kelly, a television actor turned movie producer, who "showed me that actors are real people—that they have jobs and work hard to achieve their goals."
"Actors are real people—they have jobs and work hard to achieve their goals." — Brian d'Arcy James
Armed with confidence in his abilities—and realistic expectations about the amount of dedication and hard work it would take to earn a living as an actor—James enrolled at Northwestern University. As an undergraduate there, his lead performance in a campus revival of Hair attracted the attention of the show's original producer, Michael Butler, who asked him to re-create the role in a 20th anniversary professional production in Chicago. "It was an education for me," James says. "The idea of doing eight shows a week, whether you're feeling up to it or not—I got a taste of what it meant to be a professional actor."
After using the summer to make up the semester he lost while the play was running, James headed to New York, where he began a steady climb to success. Along the way he earned Tony Award nominations for playing Sidney Falco in the Broadway adaptation of Sweet Smell of Success and the title character in Shrek the Musical.
It wasn't until he married Jennifer Prescott, a writer and environmental consultant, and became a father that James realized he needed to approach his financial life with the same care he'd brought to crafting his career.
In 2011, James' manager, J. B. Roberts, a friend from Northwestern, suggested the actor work with another of James' college friends, Erick Ellsweig, now a Merrill Lynch Financial Advisor. "It was a no-brainer," James says. "When you've known someone from the time you were kids entering adulthood, there's a great amount of trust."
Financial Turning Points
Their first step was a detailed discussion of James' financial objectives. "His goals are like those of a lot of our clients—a secure retirement, educating his daughter, Grace, and maintaining his family's lifestyle," Ellsweig says. "But unlike, say, a business executive, his income is variable." In an employment landscape increasingly based on for-hire work across industries and professions, it's a challenge that more and more people find themselves facing.
Ellsweig helped James create a three-tiered financial strategy: cash-based investments for reliable income, regardless of the projects he's working on; stocks, bonds and other investments offering growth potential; and, finally, tax-advantaged plans for Grace's college, as well as retirement savings for the day Brian and Jennifer decide to wind down their careers.
Not that retirement is coming any time soon. Last December, he took to the silver screen again in Sisters, a comedy with Amy Poehler. But whether or not he breaks through in terms of celebrity status seems less important to James than continuing to take chances and developing as a performer. "I look at my career as a marathon," he says. "I'm in it for the long haul."
3 Questions to Ask Your Advisor
My income can vary greatly from year to year—what can I do to make progress toward my long-term goals?
I'm thinking about changing careers to do something that won't provide immediate income. How can I budget for getting through this period?
What are some of my options for financing my children's college education?
Connect with an advisor and start a conversation about your goals.
Give us a call at
1.866.706.8321
9am - 9pm EST, Monday - Friday
Have questions for your financial advisor?
Connect with to continue the conversation.
Photographs by Barry Williams and Joan Marcus
The case studies presented are hypothetical and do not reflect specific strategies we may have developed for actual clients. They are for illustrative purposes only and intended to demonstrate the capabilities of Merrill Lynch and/or Bank of America. They are not intended to serve as investment advice since the availability and effectiveness of any strategy is dependent upon your individual facts and circumstances. Results will vary, and no suggestion is made about how any specific solution or strategy performed in reality.